Welcome to Safe Solutions
Safe Solutions, Inc. is a world leader in the innovation of nontoxic pest control alternatives. Safe Solutions manufactures nontoxic household products for maintaining a chemical-free home or business by protecting Indoor Air Quality (IAQ) and respecting the environment.

Natural Formulas
Our mission is to protect you and your family from dangerous pesticides.

Effective Pest Control
Our nontoxic formulas kill insects on contact but are safe for everyone else.

Eco-friendly Cleaning
Powerful, biodegradable cleaning products tough enough for your household tasks.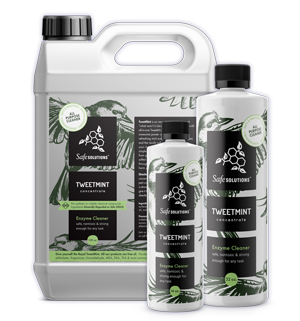 FEATURED PRODUCT
TweetMint Enzyme Cleaner
TweetMint is the perfect household cleaning companion; safe, nontoxic and strong enough for any task. Experience the awesome power of all natural activated enzyme.

It really, really works!
Finally found Lice R Gone. It works! It really, really works!
J. Grufman
This Stuff is Amazing
It was so wonderful to see my little granddaughter lice free and no more sores and scratching.
T. Grayon
Highly Recommend!
This shampoo killed the lice and nits and is gentle on the hair. Highly recommend!!!
Amazon Customer
Love it!
Use this product on a daily basis for piece of mind. Love it!
W. Daugie