Fungus gnats have earned a notorious reputation as a destructive garden pest for their ability to amass swarms quickly, attack root-systems, and even survive bitter freezes. They are an incredibly common pest to many, due to attacking virtually any plant to infest. Some of the more common plants they attack include, but are not limited to: poinsettias, cannabis, geraniums, and most houseplants.
Conventional thinking prescribes toxic pesticides to gain control, typically pyrethrin, pyrethroids, or even diflubenzuron (a toxic chemical that produces carcinogens). Chemical control poses many dangers, especially if you are applying to food crops, and rarely gains control over fungus gnats; who can easily become resistant to pesticides.
Luckily, fungus gnats can be controlled simply with natural & safe alternatives. In this article, we will provide an in-depth Intelligent Pest Management overview on how to safely & effectively get rid of and prevent fungus gnats from infesting your plants & crops.
Table of Contents:
Fungus Gnat Biology & Behavior
IPM Program
Final Thoughts
Fungus Gnat Biology & Behavior
Fungus gnats are incredibly small pests, measuring from 1/32-7/16″ long, and are very slender; closely resembling mosquitoes. They follow a four stage life cycle: eggs, larva, pupa, and adult. The complete cycle takes around 3-4 weeks and swarms can form quickly as a single fungus gnat can lay over 200 eggs.
The larval stage is often the most destructive as the larva burrow through the soil and pierce the plant roots, sucking juices from them; although these maggots predominately feed on fungi that is associated with decaying vegetation.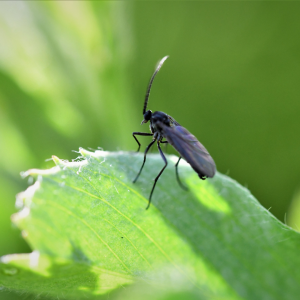 The adults feed mainly on nectar but will also seek out other sources of sugar, such as honey or syrup. They are attracted to light and also light colored objects, such as yellow, lime, or neon colored paper. Adults lay eggs near the top of the soil and where the fungus their larva feeds on is present. For outdoor growing/gardening activity, fungus gnats will lay their eggs in the top 3″ of soil.
The fungi that attracts these pests most often grows in moist/damp soil conditions where vegetation is decaying, i.e. clippings, fallen leaves/needles, and other organic matter can become a food source for this attractive fungi.
IPM Program
Cultural Control
The first step of any successful IPM program is laying the groundwork for proper sanitation & cultural control methods. Properly cleaning and inspecting grow areas, whether they be inside or outside, will go a long way to preventing fungus gnat outbreaks.
Removing organic matter from underneath plants will help to eliminate potential food sources for the fungi that attracts fungus gnats. It is important to reduce humidity & moisture in the soil underneath plants to make conditions less conducive for fungal growth. For larger outdoor grows, raking the top 3″ of soil will help to "speed dry" it and make it unsuitable for fungi to grow.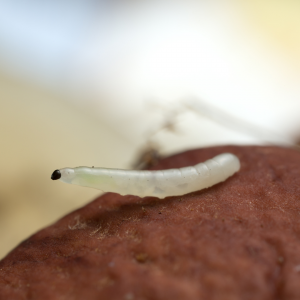 If using/saving coco coir for another growing season and using a hydroponic system, add 0.5 (15 ml) of TweetMint® Plant Wash per gallon of water to completely prevent fungal growth & fungus gnat infestation. This will keep the fungus gnats, and other pests, from being able to overwinter in your mixture; surviving to infest your plants in the next growing season.
Thoroughly inspect incoming plants, clones, and soil to your greenhouse or farm. Make sure these materials are free of any hitchhiking pests. For incoming plants & clones create a tub or spray of TweetMint® Plant Wash light dilution and dunk or spray each plants to remove hidden pests. Lightly saturate incoming soil with a light dilution of TweetMint as well to remove pests & eggs.
Fungus gnats can also make breeding sites in animal droppings, commonly in pigeon scat near windows for easy pest entry. Vacuum and clean with TweetMint® Enzyme Cleaner to eliminate breeding sites. All overflow saucers beneath plants must be cleaned with TweetMint® Enzyme Cleaner and dried out periodically.
Properly install fans, air conditioners, and dehumidifiers to make conditions less conducive to infestation.
For inspection: if any plants are suspected of fungus gnat infestation, take a clear plastic bag over all living plants with wet soil and let sit overnight. In the morning, you will be able to collect many fungus gnats, if there is an infestation.
For indoor grows, have a roofer use an infrared device to detect water sources. All wet areas should be opened up and wet material replaced.
Physical Control
Fungus gnats commonly enter greenhouses and indoor grows through vents & ducts. Simply install furnace filters to keep them from entering, cut them to size & wash as needed.
Vacuum fungus gnat swarms to easily eliminate adult populations, make sure to add a pinch of food grade diatomaceous earth or baby powder to the vacuum bag to eliminate any captured fungus gnats.
Non-toxic DIY "glue" traps can be made to capture adult fungus gnats. Take yellow or lime colored paper (or index cards) and cover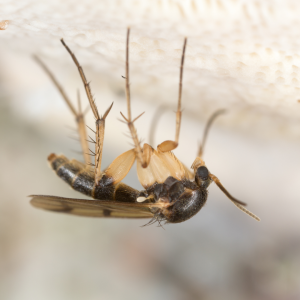 some honey, sticky glue, or petroleum jelly on them. Place in pots or near plants, replace as needed.
Bait stations: there are a variety of bait stations that can be made to capture adult fungus gnats. One simple bait station to create is as follows: take 7 parts water to 1 part cider vinegar and mix together. Pour this mix into baby food jars and place them near plants. Fungus gnats will become attracted to the baits and drown.
Biological Control
Nematodes (Steinernema feltiae), Bacillus thuringiensis subspecies israelensis (Bti), and mites (Stratiolaelaps scimitus) will all hunt & consume fungus gnats at their larval stage. It is important to introduce these predators early on, as they are less effective against larger fungus gnat infestations.
Pestisafe® Control
Pesticides & chemical poisons are ineffective for controlling fungus gnats, as the pests can quickly develop a resistance through their mass breeding/egg laying & short life cycles.
It is important to use non-toxic, natural Pestisafes®, not only to protect the health of you & others, but also to not build resistance to pests and to control them effectively.
TweetMint® Plant Wash is the best solution for fungus gnats, even for larger infestations. It only takes the light dilution of 0.5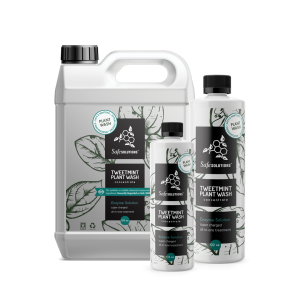 oz (15 ml) per gallon of water to both prevent & eliminate fungus gnats at all life stages.
Lightly soil drench and foliar spray to eliminate all stages of fungus gnats. Increase by 0.5 oz (15 ml) until control is achieved. Spray every other day, or as often as needed.
Final Thoughts
Control the fungus and you will control fungus gnats. TweetMint® will also eliminate the fungus attractant to better help in preventing fungus gnat issues to begin with.
Fungus gnats are a symptom of ongoing problems in one's growing installation. By eliminating water/moisture issues and keeping a clean & sanitized grow area, fungus gnats will not be attracted to your plants in the first place.
For more information you can check out The Best Control II, a free online pest control manual by clicking here.
For more sustainable solutions visit www.safesolutions.com
– Gage